Now This Is A Destination Wedding… An 8.2-Mile Hike And Over A 4,500-Feet-High Climb!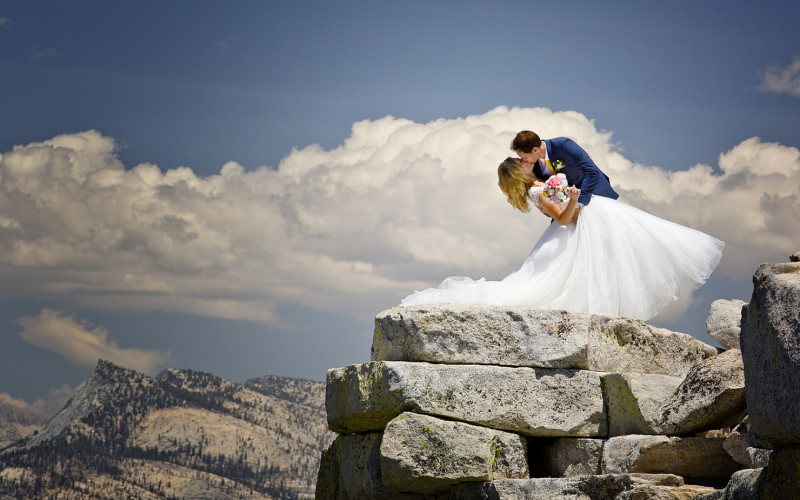 A photographer had to conquered his fear of heights in order to take a series of stunning wedding photographs thousands of feet above Yosemite National Park.
Brian Rueb's breath-taking shots show the bride and groom standing on top of Yosemite National Park's famous Half Dome.
When outdoor enthusiast Endijs and Elina Perkons asked Brian Rueb, a photographer from Redding, California, to take their wedding photos, little did he know the full extent of the destination. He knew it was a hike but what he didn't know is that it was going to be 8.2-mile hike and over a 4,500-feet-high climb.
Brian, 42, said: "I had already agreed to the shoot before I really looked into the hike… and the height thing.
"All of the fear came after I'd already said 'Yes.'"
Only Brian and an officiant were present for the intimate hike, which the group set off for at 5:30am, on July 15, 2015. In total, the hike, ceremony and shoot lasted more than 14 hours, ending at 7:30pm.
"But for anyone who is scared of heights, it's a chore, and climbing those cables after a long 8 miles uphill isn't fun.
The photographs are amazing and show the awe-inspiring view with the formal attire that seems to capture the couple's fun and adventurous style.
"It was an awesome day, and one I surely won't forget." —Brian Rueb's
Share these amazing photos of a couple's stunning Yosemite wedding with your cool and crazy friends! Pass it on!
Brian Rueb: Website 
via [Reddit, Resource Travel]